Personality!
She lives in her own topsy-turvy house,in her own topsy-turvy land,in her topsy-turvy kingdom! Her lil sis is Fairy Tulip!
Princess Of...
Silly!
Appearance
Princess Nutmeg has rosy skin with pink cheeks, black button eyes, and a small black heart next to her left eye. She has an orange crown perched in the middle of her head (it's tilting off to the right on her mini doll). Her hair is done into two messy pigtails. The right pigtail is orange and wide, while the left pigtail is pink and thinner. Her bangs are nearly straightcut, and are pink on the right side, and light orange spotted with darker orange on the left side. Her right arm is lilac with purple spots, and her left arm is pink. Nutmeg's dress has a ruffled collar, then a small white and lilac striped section that has a pink heart in the middle of it. Her sleeves are puffy; orange on the right side, and a grape color on the left side, and they end with white ruffles. Below that is a larger orange section, with a lighter orange undersection, that are both white lace frilled. The dress ends with black ruffles. She has a yellow right leg with black polka dots, and a striped lilac and pink left leg. Her shoes are ballet slippers, the left one is dark pink with an orange bow, and the right one is orange with a dark pink bow.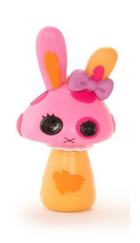 Pet
Nutmegs pet is a tall orange and pink bunny,with a tall, slim body with a darker orange heart on it. Her head is pink with darker pink spots around it. It has two black eyes which the smaller right one has a dark pink frill around it. Her mouth is a black cross. Its left ear is light pink with an orange centre, whilst the right ear is orange with a deep pink centre and a lilac bow which is titled to right at the bottom.
On her art, she has a cream cake with a cherry on top instead of a crown.